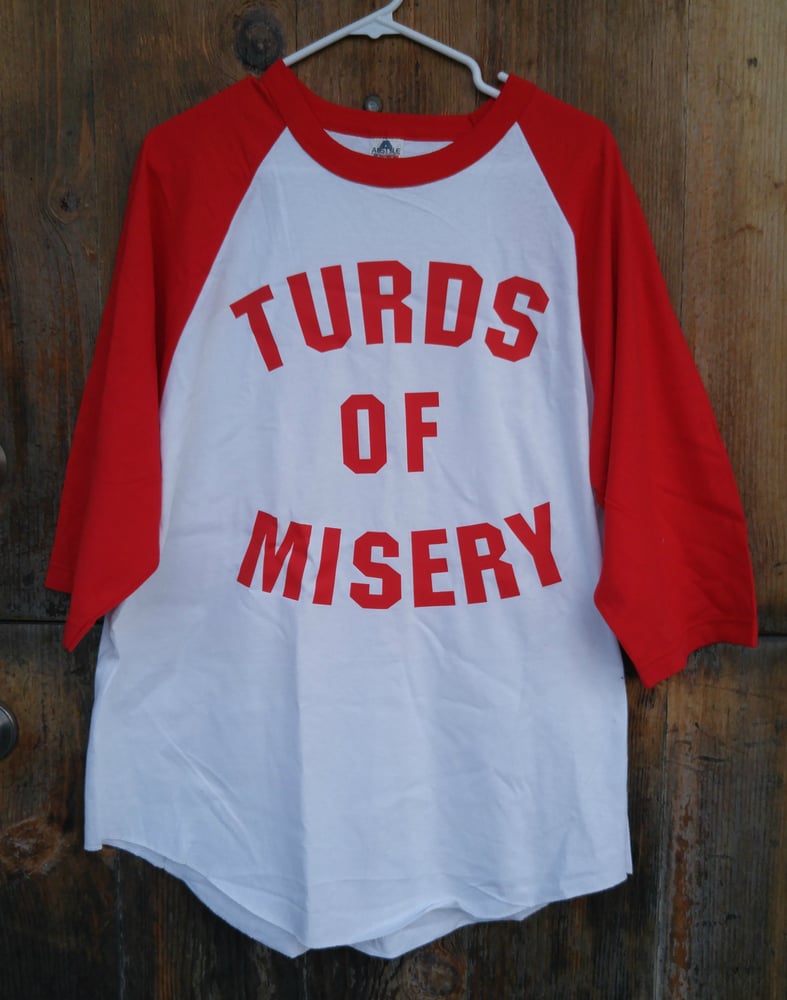 Turds Of Misery T-Shirt!!! LIMITED EDITION!!! GET YOURS NOW KOOKS!!!
$

24.99

/ On Sale
---
---
DEAR FIENDS AND ENEMAS! YOU DIDN'T ASK FOR IT SO WE DELIVERED! THAT'S RIGHT FOR THE FIRST TIME SINCE 1971 WE ARE OFFERING COPIES OF THE ORIGINAL TURDS OF MISERY T-SHIRTS! IN TYPICAL GARAGE ROCK FASHION, WE JUST RIPPED OFF THE DESIGN FROM SOMEONE ELSE! THESE ARE ONE OFF'S AND ONLY MADE AVAILABLE TO THOSE ATTENDING THE DREADFUL MUMMIES SHOW ON OCT 23rd AS WELL AS TO EVERY ONE ELSE WE CAN SELL THEM TO!
$24.99 PRE-PAID AND HAND DELIVERED TO YOU BY A SUPER TOP SECRET MESSENGER AT THE SHOW OR $24.99 PLUS FIVE DOLLA SHIPPING AND MISHANDLING
MEN'S SMALL - XXL WITH WITH RED BASEBALL STYLE SLEEVES! BUY NINE OF THEM FOR YOUR SOFTBALL TEAM!
TRUCKER HATS ARE ONLY $16.66 PLUS 4.44 SHIPPING OR FREE PICK UP AT THE SHOW AND ARE OF TOP QUALITY AND LOOK BITCHIN'!
ALL SHIRTS NOT DELIVERED FOR FREE AT THE SHOW WILL BE SHIPPED A FEW DAYS PRIOR TO THE SHOW.
IMPORTANT!!! Shipping in US of A only! Choose United States under shipping.
FOR FREE PICK UP AT THE MUMMIES SHOW OCT 23tuRD CHOOSE ANY OTHER COUNTRY EXCEPT THE US OF A!
****BONUS****
All orders come with a FREE Dirtbag Surfers Glow in the Dark Button!!!
FAQ:
Q: Why are these so expensive, are they made of 1200 count Egyptian cotton hand spun in your garage and are the shirts hand dyed in rare inks custom created from various clays found only in the sub-Saharan desert?
A: They are one off's and expensive to make and I am just a poor dirtbag! This is the only way I can earn money to get the surgery to remove thee second head from my back. His name is Carl. Bye bye Carl!
Q: If I am a hot chick can I get one for free?
A: Yes. No. Maybe.
Q: Who are you?
A: I am Thee Wolfthing from the world's most dangerous surf garage punk trash band, The Dirtbag Surfers. We suck.
Q: Does Jorge know about this???
A: He does now!